On the 18/03/14 Westrans said goodbye to one of our biggest projects we have taken part in.
The Clients requirements were to create a Mobile Training Unit which could expand to create a larger space and also recreate an existing accommodation unit to adapt to the client's needs while on the road. The Container was created using a normal flat top A trailer and 20foot container with the goal to turn it into a mobile Safety Training Facility. The container needed to be modified so it has the capability to expand into a large training room facility.Also the facility needed to be fitted with 100 litre fresh water and waste water tanks, 200 litre diesel fuel tank, generator, a television, fully equipped kitchen, air conditioning and accessible roof top walk way to carry out working with heights training.  Through planning and many consultations a system was put together to manufacture an easy to use system. The container is set and using electrically operated hydraulics systems that allows the container to expand using three hydraulic cylinders. Also fitted with a well-designed folding floor system making it easy to fold down once contain has extended.
The Accommodation Unit already had an existing living area yet the client required the trailer to adapt to fulfil all their needs while on the road. The unit was completely gutted and made into two levels to provide bigger and better living areas. The accommodation unit has been fitted with an air conditioning unit in every room, audio surround sound, satellite TV, digital radio and upper mezzanine floor for additional storage options.On the top level at the back on the unit there is a bedroom which includes a king size bed, Air conditioning, washing machine, instant hot water shower and large wardrobe space. Built in under the bedroom floor there has been fitted a 300lt fresh water tank and a 300lt waste water tank as per the clients request.On the top level toward the front of the trailer is complete with an office which includes a desk, toilet and indoor clothesline. On the lower floor has the kitchen and dining area fitted with a dining table and bench seats, oven, sink, microwave, hot plates, large cupboards and bench space.Outside has been fitted with a large awning creating shade and an outdoor seating area.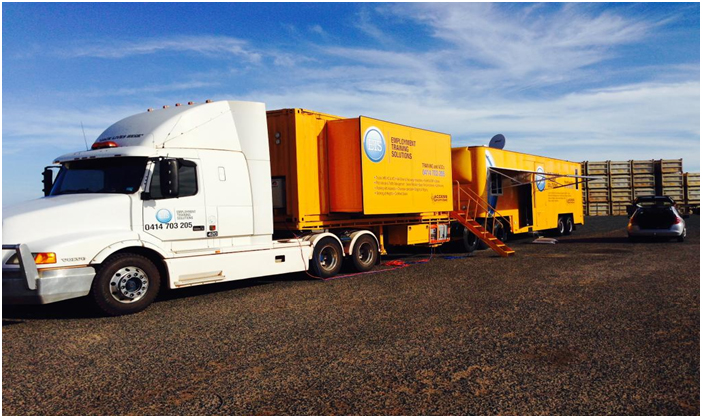 Share