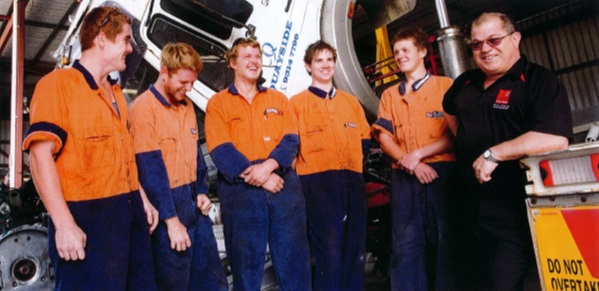 What you should know about Westrans Service WA
Based in Welshpool WA, Westrans has been around since 1992, so we've got a lot of experience behind us!
Being a part of the company from the very beginning Managing Director Joe Giura built the business specifically to provide his customers with a one-stop-shop for all their Heavy Vehicle needs. Westrans specialises in truck and trailer repairs, fleet management with a flexible "total service" approach to provide service solutions. We can service, repair, maintain and modify a wide range of vehicles, including but not limited to, prime movers, rigid trucks, trailers, forklifts and cranes. You name it, we do it!
Our ultimate aim is to provide high quality services that saves you time and money.x
Our fully qualified team, including heavy diesel mechanics, apprentices, electricians, and fabricators, can undertake all repair work required. By having a variety of occupations under one roof, we don't need to send work elsewhere to get the job done – saving time and money right away.
6 reasons why customers choose Westrans Service WA:
1. Our workshop staff are fully qualified with a wide range of knowledge and expertise.
2. We're dedicated, passionate and pride ourselves on producing high-quality work. – our apprentices are award-winning! – our apprentices are award-winning!.
3. We are cost-effective, efficient and reliable. You're in and out! – We endeavor to reduce vehicle downtime.
4. We provide a 24 hour 7 days a week roadside assistance to make sure you get back on the road in no time. We can also come to you. We have 5 mobile units on the road at all times.
5. Westrans can carry out Heavy and Light Vehicle Inspections, Yellow stickers Removals and New Vehicle Inspections.
6. We have Level 3 Green Stamp Accreditation – We want to live in a better world too.
Westrans Services WA can make life simple! All it takes is one phone call, and we can sort out the rest. Call us today on (08) 9356 1333 or if you would like someone to call you please complete our short online enquiry form today.